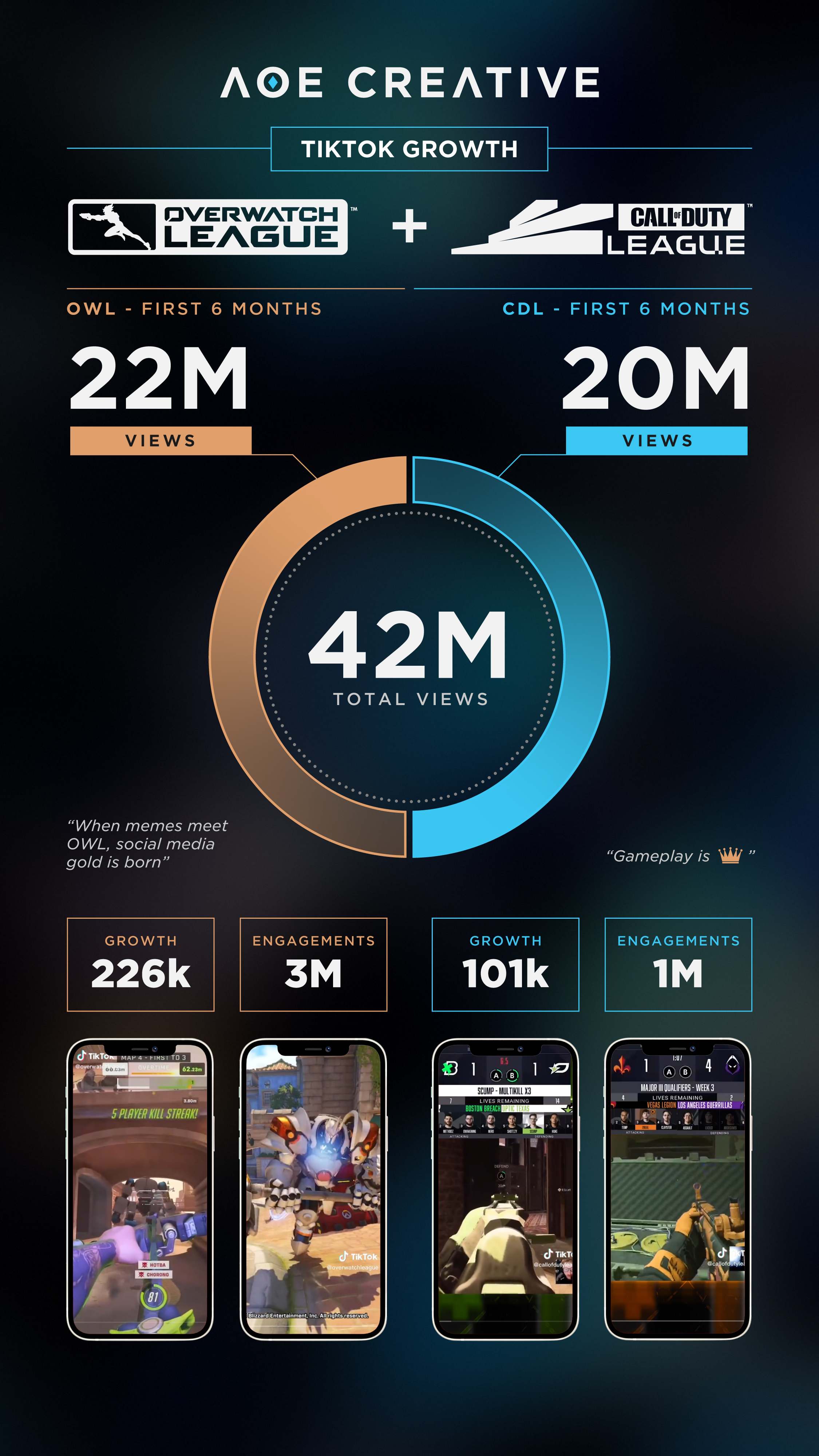 As a long-standing social media client of AOE, Activision Blizzard came to us to lead the creation of vertical content for the debut of its Overwatch League and Call of Duty League TikTok platforms. Over the course of the first six months, AOE has achieved over 40 million views and four million engagements between both accounts and amassed over 336 thousand followers. During that time, AOE created content strategies for each League tailored to the unique interests of each title's audience. These plans focused on different types of content in order to provide the audience with the content they most enjoy while also building the brands of both professional leagues.
The Overwatch League (OWL) TikTok account taps into the personality of its heroes and teams to form relatable content that all Overwatch and Overwatch League fans can enjoy. Using popular trends and audios combined with in-game humor that only avid Overwatch players will understand, the Overwatch League TikTok account has cultivated a highly engaged audience. Gameplay, while still popular, has become secondary to the meme and humor-based content that fans have come to expect and love, and fans who comment can expect sarcastic and witty banter from 'OWL' itself. Our goal is to make the Overwatch League account feel like just another fan of the League itself..
In regards to the Call of Duty League (CDL) TikTok, gameplay is truly king. As the channel has grown and evolved, AOE has found the TikTok Call of Duty (COD) audience is competitive, but not specifically for the Call of Duty League itself. Viewers enjoy high octane gameplay, clips and highlights from professional players, and general competitive Call of Duty content. The challenge with this has been continuing to build the personalities and branding of the CDL, while also giving consumers content where they don't necessarily have to understand the CDL in order to enjoy the content. Additionally, fans have enjoyed content around competitive Call of Duty culture, such as skits and questions that evoke a sense of nostalgia and relatability when they view the content. Overall, our focus has been to build the CDL brand, while also formatting our content to the competitive COD scene as a whole.